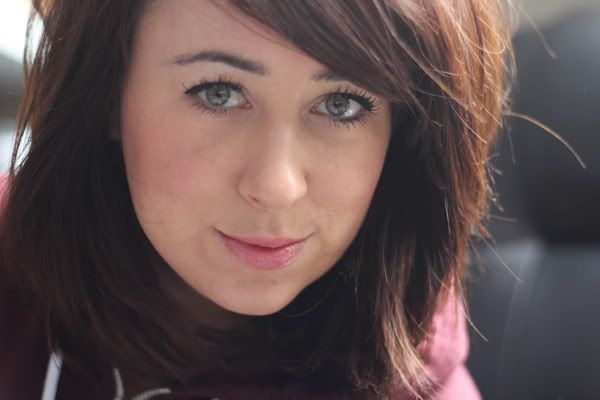 The BB cream on my skin with no powder (just a little bit of concealer underneath) – as always with foundation photos, no image editing except resizing, no playing with colours.
Vivo are the latest company to jump on the BB cream bandwagon and release a high street "western" version of the creams that are all the rage in Asia. Having tried a few Asian BB creams (my favourite being Missha perfect cover – let me know if you want a review!) I am dubious as to whether or not these UK versions offer any skincare benefits like the Asian versions, but honestly that doesn't matter to me much. As my skin is a little on the dry side just the idea of a very good coverage tinted moisturiser is enough to make me interested, and that's how I've gone into testing this. Vivo is a brand I've been impressed with so far (especially the brow palette) and it is very accessible (Tesco) and inexpensive.
My first impressions of this were that for a 'light' colour, this was quite dark. Not a complaint from me personally, as this suits my skin tone perfectly, but any ivory ladies might be disappointed to see that this will look a little orange on them. As I said it suited my skin nicely so no complaints there. The texture is very "wet" and doesn't really set much on the skin, definitely not to a matte or powder finish. The first day of testing I purposely didn't set this with a powder to see its lasting power and like I suspected, it didn't look good after a few hours of train travel and changing temperatures. The next day however, I did powder it with a loose powder, and I found it much nicer. The BB cream set nicely on my skin rather than staying tacky and lasted nicely. I will add that both days I wore my regular sunscreen under the BB cream, perhaps without this layer it wouldn't be too tacky.
I think due to the texture of this, oily skins will want to steer clear really, although you could always forego moisturiser. Coverage wise, I was impressed, I used (as always) a bit of concealer first and was impressed that this covered the majority of my skin issues. It didn't give the flawless appearance of a foundation, but evened skintone, covered imperfections, but left enough visible to look more natural. Today was a relaxed day, hoodie, bit of liner, so its perfect for that.
Overall I liked this with a powder. Like I said, oilier skins might want to take care with this one, but for normal to dry skins this is worth trying out if you are curious about the BB phenomenon!