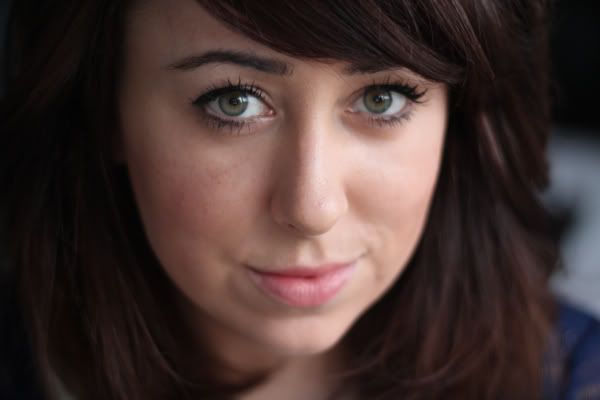 As always with foundation photos, no powder here and no editing apart from resizing.
There's a new Rimmel foundation doing the rounds, and as a fan of their Lasting Finish foundation I was looking forward to trying their latest offering. I actually did a bit of filming with Rimmel for their London Fashion Week videos and was given this to try on the day, but I was actually looking to purchase it myself and I believe a few places have this on an introductory offer at the moment if you are interested in trying it.
This foundation is dubbed the "Wake Me Up" foundation. Said to contain "radiance pearls" this aims to illuminate and restore radiance to the face, with peptides and SPF15. I've spoken about this a few times before, but I never really go for any of the skincare and sun protection claims of foundations, I always wear SPF under my makeup as sometimes I like a light covering of foundation and obviously just like sunscreen less product applied means you might not completely cover everywhere and will have less protection, just something to note! I'm just going to go off the foundation as I always do, as a purely cosmetic/makeup item. I have been using the shade 200 Soft Beige.
Unlike other radiance enhancing foundations (Revlon Photoready I'm looking at you) this has no shimmer and therefore you won't be experiencing any Cullen moments when wearing it. This is good news for anyone with larger pores or fine lines as the shimmer can enhance that significantly. This foundation seems to achieve the glowing result via its fresh, dewy finish, although I know the word dewy scares a lot of people. This won't make you shiny! Although I usually wear a primer, I feel I can forego that step when using this foundation as it fills in my (large) pores, similar to the Collection 2000 concealer everyone loves so much, this is probably due to silicones somewhere in the formula.
I have normal to dry skin, and this foundation didn't make my skin feel tight or uncomfortable, but if you have any flaking/dry patches of skin, this (like most foundations) will emphasise it. It is pleasant to wear and doesn't feel heavy, but gives a nice amount of medium/full coverage on imperfections. Without powder it lasted around 6 hours on me (no major problems just a bit shiny on the old nose) and powdered it lasted a full day, over 8 hours no problems.
I'm really impressed with the formula of this, very oily skins might want to go for the Lasting Finish but normal and combination skin should love this, and even on my dry skin I had no problems. At £8.99 this is a great foundation and the pump dispenser makes for hygienic and easy application. I have used the real techniques buffing brush with this but prefer my fingers with this formula.
My only criticism is regarding the range of shades. I could write a whole separate post on this as it is something I feel very strongly about, and is by no means merely a Rimmel issue, but one the whole of the British High Street needs to fix when it comes to makeup. I understand that makeup is a business and there is no point manufacturing items that won't sell and will go to waste but we live in a multicultural country with British citizens of every skin tone. To put it shortly, six shades of foundation simply isn't enough, and I honestly think it's time a mainstream British company led the way and created face products that all women can wear instead of forcing darker skinned women into shopping at Bobbi Brown or MAC. When I go to London I certainly don't see only people with the skintone of the six foundation shades, and with London in the company name I'd love to see Rimmel reflect that, they have a great product line and it would be amazing if more people could enjoy it.
Like I said, this is something the whole of the cosmetics industry disappoints me with, I've worked on a few counters and its upsetting and embarrassing to have to tell people you don't make a product dark (and in some cases light!) enough for them. Sort it out beauty industry! That being said, this is a fabulous foundation well worth the £8.99, especially when I can skip a primer. Have you tried this?
Edit to add: A lot of you are commenting saying yours was very shimmery and in some cases had to be returned! Although mine has a very slight pearly sheen when held up to the light in the bottle, when I pump this on my hand and apply it on my face there is absolutely no shimmer in mine, not even under close inspection in bright light! Wondering if this is a sample issue or if there are inconsistencies?