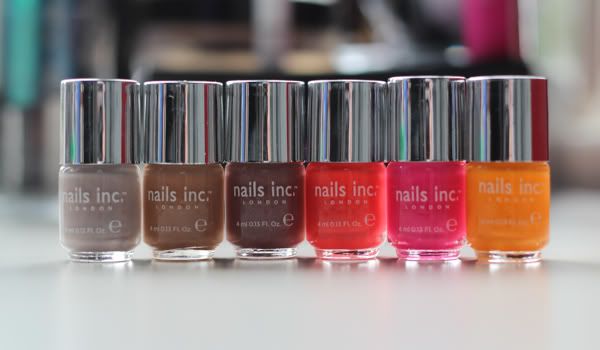 Left to Right: Porchester Square, Cadogan Square, Jermyn Street, Portobello, Notting Hill Gate, Westborne Grove.
I thought I would share a new Nails Inc release with you today, the lovely "Neon & Nude" box set. This is a cute collection of mini polishes to fit the current trend of matching nude and neon pieces and includes some really pretty shades. I like things like this because I very rarely use up a whole nailpolish and whilst these are smaller sizes, you can try 6 shades for £22 which would only usually get you two Nails Inc colours in full size. The neon shades are new colours to Nails Inc and are perfect pedicure colours whilst the more muted colours are very office friendly and will allow you to feel groomed but won't attract funny looks in a more conservative working environment.
Even though this is very "on trend" (hate that phrase!) I think it's a handy set to have all year round, in fact, it could also be pitched as a nail and pedicure kit which is what I'll use it as in the winter. Have you tried any of the colours from Nails Inc? Are you also a fan of mini sizes?
You can find out more about this set on their website
here
– I just did a quick google and they actually have a video on there if you want to see the colours a little more, they also do a really cool neon/nude nail in the video for those of you with steady hands!